Dollar Store Franchises: The Definitive Resource For Your Dollar Store Needs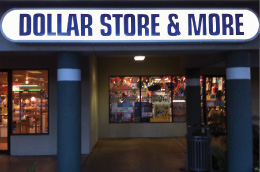 Are you interested in opening up your very own dollar store franchise? Do you have dreams of becoming an entrepreneur and branching out into the exciting and lucrative dollar store business? If so, you are one step closer to seizing the initiative and taking advantage of one of the fastest-growing fields in the country.
Here, you can have access to all the information you could ever want on how to start up a franchise in a dollar store chain – and make a living as your own boss running a successful dollar store.
Why Open a Dollar Store?
One of the main reasons why we think it is a great idea to open a dollar store of your very own is because of the enormous dollar store franchise opportunities out there.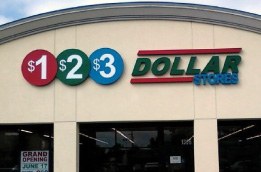 Study after study in the market has shown that dollar stores constitute a growing phenomenon. Businesses are popping up everywhere, because demand has never been higher for affordable shopping.
Plus, running a dollar store has never been easier. These stores are simple to run and operate, and they generate a nice profit with very low overhead. Not to mention, with the right services you can set up shop and get your business running quickly. Not to mention one of the best benefits of all – financial independence.
If that sounds great to you, you are in excellent company.
What We Offer to You
If you want to set up your own dollar store franchise, you need the absolute best in help planning, setting up, and operating your new business.
Contact us today and see the wide variety of excellent services we can provide. We can:
FREE store location analysis and assessments
Help with commercial lease negotiations
Marketing concepts for your dollar store in your local area
FREE store layouts with lists of what is needed
Web-based online catalogs from all the major warehouses in the country
Grand Opening procedures and assistance
Information on how to create purchase orders
A full business plan for banking and lending institutions
And a wealth of other valuable dollar store franchise information
Why Go With Us?
You may be wondering why you should choose us to help you set up your dollar store business.
Is it really necessary? Couldn't you do everything on your own?
The truth is, setting up a dollar store business of your own smoothly and efficiently is a chore and something that virtually requires expert help. We want your business to succeed, and the best way to make sure that happens is to nail the process from the very beginning.
Think about everything you have to do when you set up a store. For example:
The layout and design of a dollar store franchise is critical and will directly impact the success of your business
Finding a reliable network of wholesale merchandise distributors can be difficult without help
A business needs extensive marketing preparation and analysis before a store can be successful in offering merchandise that is in demand
That is just the tip of the iceberg.
With our professional services, you will have a steady partner every step of the way, one who can help you make the decisions you need to make as you go through the rewarding process of setting up your own franchise.
Why own a dollar store?
In an era of economic tightness and low job security, it is always a good idea to venture on one's own business.
Dollar stores provide an option of owning a business without having high overhead or high start up costs. If On top of that you add the fact that you can do it independently without paying any royalties or "know-how" fees, it makes the opportunity be even more attractive.
We believe the dollar store business is going to keep growing, dollar tree has expanded to almost 11,000 stores with their purchase of the family dollar chain and that has also helped them grow exponentially. We have created a model where store owners can have their own independent store and not pay the cost of a franchise.
Retail customers continually look for good value and not having to pay high prices as you do in the supermarket or party store. The dollar store provides a solution in buying those type of items along with kitchenware, housewares, toys, school supplies at a much lower cost than in a normal retail setting.
Another advantage is that you do not need retail experience. With today's technology and the advent of POS systems and computers, inventory can be calculated daily, monthly, and orders placed at the same time as items are being sold.
What are the steps in owning a dollar store you may ask ?
As with all retail businesses, the location is key. Taking a close look at the location, price, rent, competitors in the area and other factors will determine if a location is good or not for a dollar store. Dollar stores thrive on traffic and what we call an "anchor". An anchor is the large store in your plaza or on your street that will bring you the traffic. This is key and also the rent amount is more than vital in determining if a location will be good or not for a dollar store. The best shot in taking a look at everything together would be a feasibility study and dollar store business plan. By punching numbers in an Excel spreadsheet you can determine if the breakeven points are suitable or not for the location, and if the expenses will meet or exceed sales and profits.
Overall, we believe the US economy will keep deteriorating and people will have less spendable income therefore making customers look for better deals and get the same items at a lower price than they would at the normal retail channels. It is a good time in history of the US economy to get started into a dollar store independently. All the tools are out there to be able to do it correctly without having to pay extra costs other than your own overhead as well as the cost of dollar merchandise and rent which you control on your own. It gets down to the very basic retail concept with no complicated variables.
Related links: How to open a dollar store Franchise?, and How to open a Family Dollar Store
Contact us now for more information on starting up dollar store franchises. It's your future – let us help you today!
Contact us for guidance (888) 827 3002